When it comes to designing your bathroom, the choice of shower door plays a significant role in enhancing both the aesthetics and functionality of the space. Among the crucial decisions to make is the types of glass for shower doors.
With a wide range of options available, each with its unique characteristics, it's important to understand the differences to make an informed choice. In this article, we'll explore various types of glass for shower doors that not only add style but also provide the privacy and durability you desire.
A quick look at different types of glass for shower doors
Here is a list of diverse types of glass that are available in shower doors:
Do you want your bathroom door to look more elegant? Standard clear glass can be a good choice. Clear glass can make your bathroom look bigger and more appealing, allowing lighter and space. On the other hand, clear glass must always be cleaned to keep its perfect look.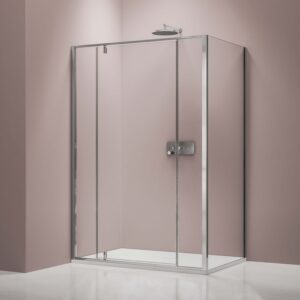 This glass type comes in many patterns, like wood, tiles, and brick. If you install a textured glass shower door in a well-lit room, the sound of running water can be fascinating. Textured glass also makes it harder to see in. Also, you can't leave your prints on it. Textured glass is more interesting and harder to see but doesn't block all light.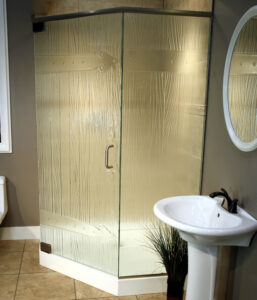 Frosted glass is a great choice to balance privacy and looks. It lets some light through but looks hazy, so it's hard to see small details. Frosted glass shower doors add a touch of class to any bathroom and go with a wide range of design styles.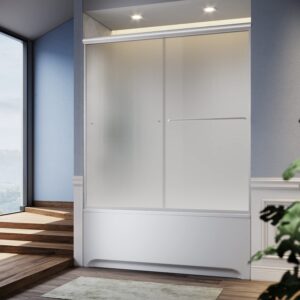 Patterned glass shower doors have complex patterns and designs, just like textured glass. Bathroom centerpieces can be made of colored glass.
The patterns can be anything from flowers to geometric shapes. It's a great choice for people who want a bathroom door that does what it's supposed to do and also looks good.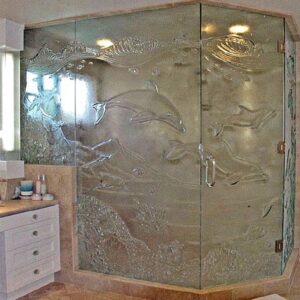 Add some color to your bathroom by putting in a shower door made of tinted glass. Tinted glass, which comes in neutral colors like grey, bronze, and blue, reduces glare and makes things more private. The color you choose should go with the rest of your bathroom.
Even though it isn't obvious, it gives you much privacy. If your bathroom is warm, soft, and earthy, a bronze glass shower door will make it look like copper.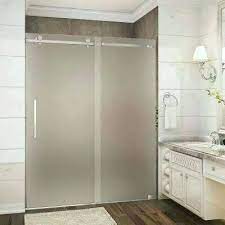 Rain glass gets its name from its design, which looks like raindrops. Your bathroom will stand out because of the rain's beautiful patterns on the Rain glass shower door. The shower gets soft light from the rain window.
It has a pattern on one side. Thus, it is smooth and easy to clean on the other. Fingerprints, water spots, and other small marks are hard to see on rain glass.
Unsurprisingly, low-iron glass has less iron than regular glass, making clear glass less green. It is also more clear and sharp than most other kinds of glass. Since low-iron glass is almost transparent, it is also known as high-definition glass.
This type of glass doesn't bend or change colours because it lets more visible light through. Install a low-iron glass shower door to show your stall's real colours. Low-iron glass can make your bathroom look more elegant and draw attention to the detailed tilework.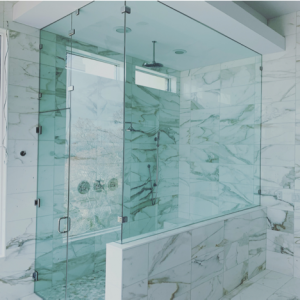 Antique glass shower doors are a great way to bring a touch of the past into your bathroom. The slightly curved look of old glass gives it all the charm and personality of the past. This might be the way to go if you want to make your bathroom a little more unique and cozy.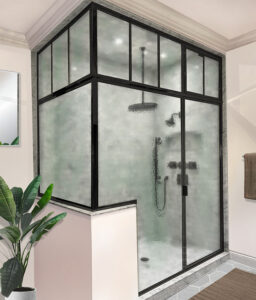 Sandblasted glass lets in enough natural light without making your shower less private. Sandblasting gives the glass a shiny look, making it see-through to different degrees. You can show off your style by putting pictures and patterns on this glass.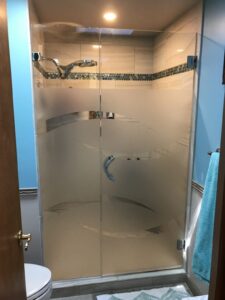 Smart glass, also called switchable glass, uses current technology by letting the user change how transparent the glass is with the touch of a button. This clever approach gives you privacy while still letting in natural light. Convenient and expensive, smart glass can go from clear to dark instantly.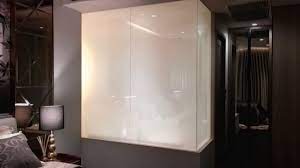 Choose starphire glass if you want a clear bathroom door with no hints of color. It adds style to your bathroom and looks good with tile or marble surfaces. But starphire glass can be hard to clean off fingerprints.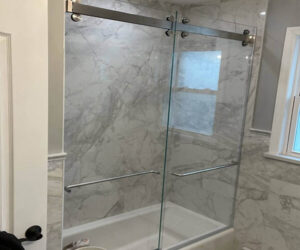 We've gone over the most common types of glass for shower doors. The type of glass you use for your shower doors can greatly affect how your bathroom looks as a whole. You have different options based on whether privacy, looks, or both are the most important things to you.
You can choose any shower glass that fits your style and room. Ensure that your home's design takes advantage of the beauty of shower glass and follows the latest trends in interior design.