When it comes to selecting the perfect shower doors for your bathroom, the choice between frosted and clear options can greatly influence the aesthetics and functionality of your space. Both frosted and clear shower doors have their unique qualities and benefits, catering to different preferences and needs. In this comprehensive comparison, we'll explore the characteristics of frosted shower doors vs clear shower doors, helping you make an informed decision for your bathroom upgrade.
One of the most important things to consider is whether you want clear or frosted shower doors. Don't worry, though. Here are some pros and cons that might help you make your choice. However, we'll delve into the differences between frosted and clear shower doors, exploring their benefits, drawbacks, and the factors to consider before making your decision.
What are clear glass shower doors?
As the name implies, clear shower doors are available entirely of clear Glass. This guarantees that there is no opacity to the Glass at all. High-gloss clear glass shower doors give your bathroom a polished, modern look.
Clear shower doors are ideal for small bathrooms because they create the impression of more area.

Water drips, filth, and soap scum can be readily aloof from the clear shower panels because of their smooth, bare surface.

No hard lines or corners need to be drawn to define the bathroom's arrangement, so the space feels more open and airy.

Clear Glass works with contemporary and classic bathroom decor without being out of place.

In terms of cost, patterned shower doors are significantly more expensive than clear glass panels. Sheets of clear Glass are more practical and cost-effective!
There is no hiding place for water, grime, or hard water stains. They are all readily apparent on the transparent surface. Therefore, regular deep cleaning is essential.

Lack of privacy due to see-through shower doors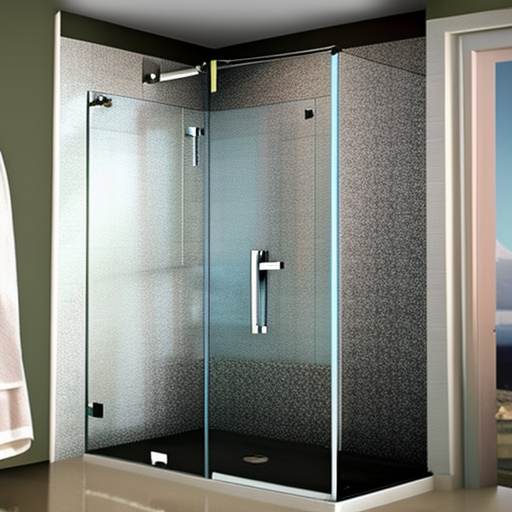 What are Frosted Glass Shower Doors?
Frosted glass shower doors are not entirely transparent like their clear counterparts. Glass can be more or less opaque by applying different treatments to its surface.
Authentic frosted glass shower doors are available by heating fluorite and putting it into the Glass to etch a pattern or opaque layer into the Glass. Melting of glass happens to generate layers at varying angles. This reflects light differently and diminishes the Glass's clarity, resulting in a smooth and refined finish.
The frosted glass on a shower door lets in more natural light and reduces your need for artificial lighting, saving you money over time. They add a physical glow to the interior design.

Shower doors feature a fuzzy design that conceals defects and any hard dirt spots that may appear. 

A frosted shower door is a way to have peace and quiet. The Glass has a hazy, sandblasted design that prevents anyone from seeing through it.

Because fingerprints and dirt marks don't stick as readily to patterned glass doors, they're simple to keep looking pristine and fresh. 

The space will feel more open whether you go with a glass door or a complete shower cubicle.

You can design the opaque glass shower doors however you like.

When creating aesthetically pleasing glass panels, neither quality nor durability are compromised. It is a good idea to use tempered Glass in these situations. 
The rough side of the shower glass may collect dirt and mildew that is difficult to remove. However, this problem can be alleviated by routine cleaning.

One of the disadvantages of frosted glass shower doors is that they cost more than clear ones.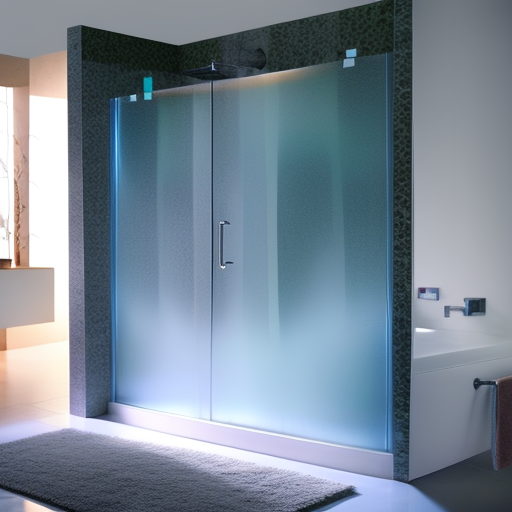 Frosted Shower Doors vs. Clear: Design and Aesthetics Comparison
Shower doors made of frosted or clear Glass can be customized in several ways. Thus, shower doors made of Glass, whether apparent or frosted, provide a touch of elegance to any bathroom. Frosted glass shower doors offer more privacy than transparent ones. The lesser-grade frosting film used to create them is easily damaged.
Shower doors made of clear Glass can withstand intense cleaning. But those made of frosted Glass can be damaged if scrubbed too hard to remove mold and mildew.
Frosted glass shower doors are aesthetically pleasing and are more low-maintenance than clear glass doors. However, they could diminish the bathroom's spaciousness and illumination.
Do you prefer frosted or clear doors? It's up to you to decide what to do. Your bathroom, the individuals who will be using it and your desire to make your property as marketable as possible in the coming years all go into this decision.
Clear Glass is the best option for the main bathroom. At the same time, frosted Glass is a better choice for shared bathrooms like those used by siblings or guests.